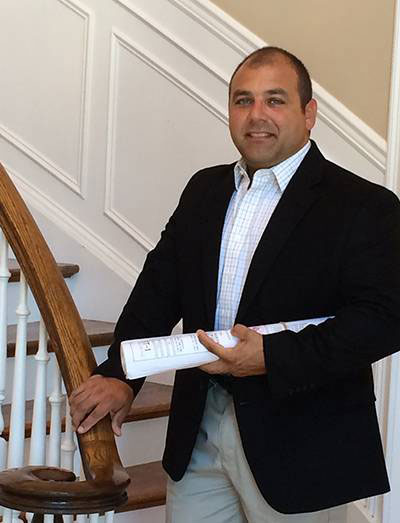 Vincent Calvosa
Vice President
Vincent Calvosa began his love affair with building at the age of 12 when he helped a builder as a summer job, and soon discovered the excitement of crafting things with his hands. He connected to the joy of seeing his labor take shape through the use of old-world skills that had been passed down from worker to worker, generation to generation. All of this might seem a little overwhelming for someone so young, but for Vincent, building was as natural as breathing.
By the time he was 18, his summer job had turned into a supervisory job, and he had his first crew to run. His passion for building new homes was firmly rooted, and continues to make him happy.
All these years later, his impeccable reputation speaks for itself, and his company continues to expand upon its impressive track record of performance.
Vincent is a Master Carpenter, and has worked on every job that can be done in conjunction with home building. He has studied all the trades, and is equally at home in carpentry, plumbing, tile work, and electrical work. Vincent has even worked as a surveyor. All these skills serve his clients well as he works with the master craftsmen that serve in the extended family of The Calvosa Organization. He knows how a job should be performed, and can do it himself if necessary. When special requirements are needed for a client's dream home or for an architect's specifications, no one can tell Vincent the needs are beyond reach, because he's able to pick up any tool and get the job done himself.
"As builders of extraordinary homes, it is clear to me that we will stay dedicated to building quality homes using craftsmanship with old world values. Details are our passion, and we actively combine the highest levels of artistry and knowledge within our professional staff."
– Vincent Calvosa
One difference you will find when working with The Calvosa Organization is finding the boss personally supervising all of the job sites. Vincent admits that he is happiest on a ladder working with his crewmen. So if you ever drop by a Calvosa Organization job site, don't be surprised to see Vincent on the job. This is the passion and dedication that makes going to work a pleasure for him day after day. And it shows in every project that his organization undertakes.
In addition to leading The Calvosa Organization in creating award winning homes, Vincent is a very active member of the community who has helped raise hundreds of thousands of dollars for non-profit organizations. In his ongoing personal commitment to the community, he has built numerous homes for Returning War Veterans and Affordable Housing Agencies, including Long Island Home Builders Cares and the Long Island Housing Partnership.
Vincent Calvosa is a long-standing member of the Long Island Builders Institute, an association of building industry professionals formed in 1941. Dedicated to making Long Island a better place to live and work, the LIBI strives to create a balance between the economy, the environment and development opportunities. Vincent serves as an Executive Board Member, as well as Chairman of the Compliance Committee which functions to ensure that the quality standards and commitments of its member builders are fulfilled when there is a complaint or dispute against a member.